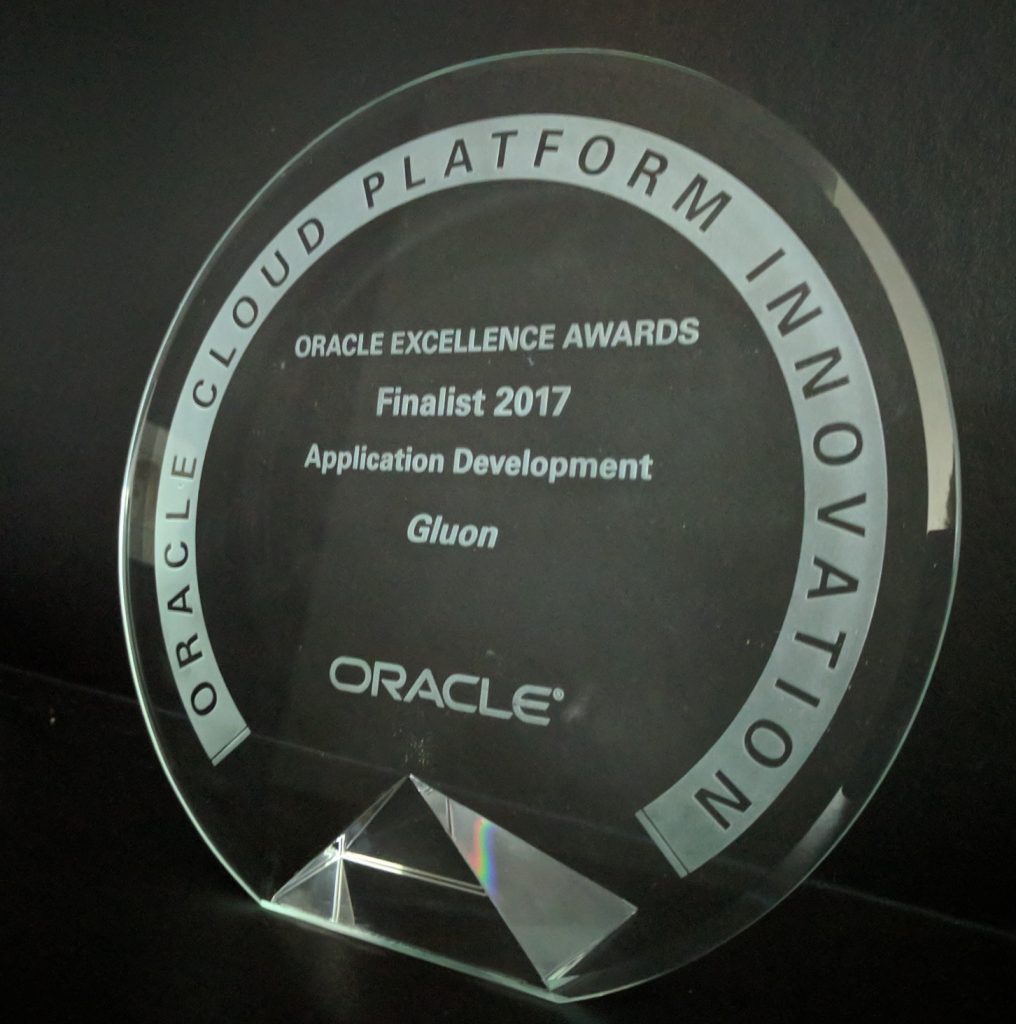 Last week at Oracle OpenWorld and JavaOne, Gluon was honored to receive an Oracle Innovation Award for our work on Gluon CloudLink on Oracle Cloud. This marks a significant milestone in the history of Gluon, as it is clear that we are now being taken seriously not just for our Gluon Mobile offering, but also for our Gluon CloudLink offering, and especially their ability to drive innovation, increase development velocity, and reduce costs.
By default, Gluon CloudLink is a public SaaS solution hosted on Amazon's AWS infrastructure, but for customers who want to use the functionality of Gluon CloudLink in a completely private environment, Gluon offers Gluon CloudLink on premises. While Gluon CloudLink on premise offers increased security and privacy, it doesn't enable all of the advantages of a cloud-based solution (for example, easy configuration, automatic scaling, backup, rolling upgrades, among other convinces.).
For customers who want to leverage the Gluon CloudLink functionality in a single-tenant environment, but still want to benefit from the cloud advantages, Gluon offers Gluon CloudLink via Oracle Application Container Cloud Service (Oracle ACCS). In this way, the Gluon CloudLink functionality is deployed as a set of microservices into the customers own instances on Oracle Cloud. If wanted, customers can configure the requirements for the different microservices (e.g. data management service should be deployed on 2 instances with 512 MB).
While Gluon already allows for a number of integrations with enterprise systems, running Gluon CloudLink on Oracle ACCS also has the advantage that customers can directly benefit from the data and functionality shared between Gluon CloudLink and other customer-specific services. For example, Gluon CloudLink on Oracle ACCS will by default create an instance of Oracle MySQL Database Cloud service which can then be used in other pieces of the customer overall setup on Oracle Cloud.
We are extremely proud and honored that our efforts in enabling the mobile enterprise using Java and Oracle Cloud are recognized by Oracle. As we discussed before, one of our main criteria for Gluon CloudLink is the integration with cloud vendors, and our integration with Oracle Cloud is a good example on how our customers can benefit from teaming up with Gluon and Oracle.