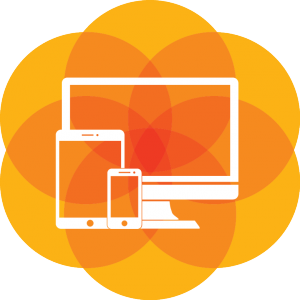 As of today, Gluon is proud to be hosting the JavaFXPorts website. The JavaFXPorts website at http://javafxports.org was previously hosted and maintained by our friends at LodgON. JavaFXPorts maintainer and LodgON CTO Johan Vos decided to bundle all the LodgON JavaFX activities into Gluon.
The JavaFXPorts documentation, available at http://docs.gluonhq.com/javafxports/ is now being created using asciiDoc. This makes it easier for Gluon developers to keep them up-to-date. For now, we have converted the existing HTML documentation into asciiDoc, and we asked our designers to improve the graphics (including creating the new JavaFXPorts logo to the right). In the future, we will use the great features of asciiDoc to make the resulting documentation richer, including more code samples.
Gluon is very committed to the JavaFXPorts project. We are true believers of Open Source software and therefore we are happy to spend lots of resources in increasing the quality of the JavaFX runtime for mobile platforms (Android and iOS). We will continue to release new versions of the mobile SDKs and make them available (for free of course) to all developers.
At the same time, we want to grow the ecosystem around the open source JavaFXPorts project. In order for an open source project to be viable, and to be usable in the industry, commercial support, services and products are much needed. That is exactly what Gluon is providing. Our commercial offerings are built on top of the open source project JavaFXPorts.
We encourage developers and companies to participate in the JavaFXPorts project. This can be done in a number of ways:
Help with the porting effort. At this moment, most effort is done by Gluon developers (apart from the great work the Oracle engineers did), but we will be very happy to welcome other contributions.
Create (free or commercial) services and tools on top of JavaFXPorts, and offer them to companies that want to create mobile Java Applications
Create JavaFX Applications, upload them to the AppStore and the Play Store, and talk about them.
If you want to be involved, reach out to us and let us know!
Having the JavaFXPorts website hosted at Gluon makes it easier to maintain it, and keep it up to date with the latest improvements. It should give JavaFX on mobile another boost.