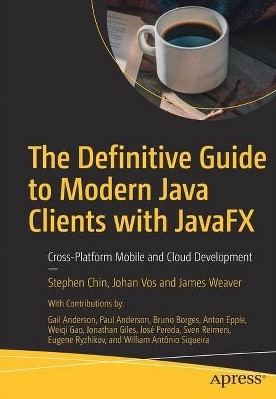 The Gluon technology stack is the very best way to get Java running on Desktop, Embedded, Android and iOS devices using a single codebase. Gluon Mobile  makes creating beautiful and highly functional cross-device mobile applications a breeze, while Gluon CloudLink makes connecting your backend services to your mobile applications something even a UI developer can do!
To showcase the powerful cross-platform features Gluon Mobile brings, Gluon organizes a Book giveaway. Send us screenshots of your cross-platform applications!
The Book
A single codebase for all platforms? That gives you plenty of time to read the bestseller "The definitive Guide to Modern Java Clients with JavaFX".
We have 5 copies, signed by co-author and leading Java authority Johan Vos, to give away.
How to Enter
We are looking for entries that picture actual applications that are used every day by you and/or your customers, no mockups but the real stuff. The applications should make use of Gluon Mobile (or relevant parts of it).
Make screenshots of the app running on different platforms and combine it into 1 image. Make sure your customer agrees.
Send your entry to sales@gluonhq.com with the title "Gluon Book Contest". Entries will be confirmed by Gluon by Email.
Want to Increase Your Odds?
Of course you do! Here are some ways to increase your odds:
Post a Twitter message using this link
Post a blog post discussing your entry and its technical or design excellence.
Small Print
All entries must be received by end of day July 15th. Gluon will review all entries and pick the winners. A valid entry consists of a receipt confirmation of your Email. One prize per participant. Winners will be announced via the GluonHQ twitter account and will be contacted through email. Anyone can enter, no purchase required.